Abrams EyeCare- Carmel
Company Name: Abrams EyeCare- Carmel
Address:
11455 North Meridian Street # 100
Contact :
Bettye Jo R Lloyd
Web site:
http://abrams11455.wpengine.com
SIC code:
801101
Industry group:
Health Services
,
Business category:
Offices Of Doctors Of Medicine
,
Subcategory:
Physicians & Surgeons
Gross Annual Sales (Revenue):
915,000
Overall:
Abrams EyeCare- Carmel is a business categorized under offices of doctors of medicine, which is part of the larger category health services. Abrams EyeCare- Carmel is located at the address 11455 North Meridian Street # 100 in Carmel, Indiana 46032-5875. You can contact by phone (317)846-4223.

Description:
Eyewear & Opticians | Ophthalmologists | Laser Eye Surgery/Lasik,
Working hours:
Mon: 08:00 am - 05:00 pm, Tue: 08:00 am - 05:00 pm, Wed: 08:00 am - 05:00 pm, Thu: 08:00 am - 05:00 pm, Fri: 08:00 am - 05:00 pm, Sat: 08:00 am - 12:00 pm, Sun: Closed
Tags:
Ophthalmology clinic
Optician
Optometrist
In summary:
Excellent service from an excellent doctor and staff.
One would expect this to be a bread-and-butter transaction for an optical shop.
Good selection of glasses to choose from as well.
Recommended:
Click here to Inform about a mistake
24
Rating:
Location & access map for "Abrams EyeCare- Carmel"
Photo from "Abrams EyeCare- Carmel"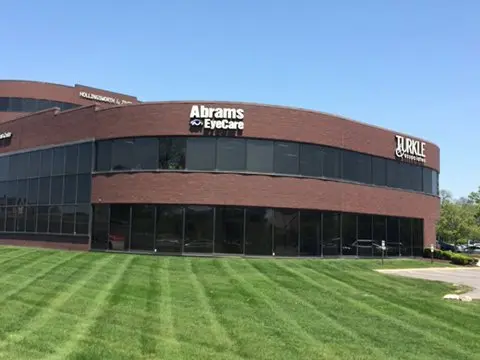 ---
Abrams EyeCare- Carmel (Health services, Clinics Of Dentists )

about:
Review/Comment
Name: L.M.
Message: The receptionists who were at the check in counter were welcoming and friendly. I was greeted promptly with a smile. The Dr who checked my eyes seemed very calm and focused. He asked a lot of specific questions for clarity about anything that could affect my sight. The person at the checkout counter was efficient. The ladies in the optical department were friendly and professional. The entire process went smoothly, because there is an excellent system in place to help patients navigate. through the office effectively. There was a lot of diversity among the employees at Abrams Eyecare. I saw men, women, various ages, and ethnicities. This made me comfortable, because I could tell it was an all inclusive environment. There is a welcoming atmosphere that captivated my attention in the beginning with check in, and I was impressed that I was treated by a knowledgeable person at each stop in the office. The last stop in my visit was optical, and their upbeat style went well with the stylish glasses. I needed to ask the opticians to order my contacts, and I had a million other things on my mind and I didn't relay the message to optical. If there is a way to put something in the patient's hand that they need trials ordered, it might help prevent a gap that could occur in the process with a patient. Optical was a great ending to the process, because the. opticians were engaging with everyone who walked through the department.
Name: B.S.
Message: I was very happy with my appointment with Dr. Mann on Friday July 7th. I didn't wait to be called back for my appointment and she was very thorough and pleasant. I have always been happy with my care from Abrams Eye Care.
Name: M.B.
Message: I have been coming regularly to Dr Abrams's clinic for my glaucoma problem for the past several decades. The courtesy and friendly attitude I have received by Dr Abram and the staff I every time I visit the clinic has always been very satisfying for me. I feel I'm part of the family because the Abrams always find time in their busy schedule to discus about our families. Thank you for your kindness.
Name: M.B.
Message: I had to change eye doctor locations because I have moved. I went to Abrams Eye Center In Carmel and saw Dr. Mann. The visit was very pleasant and professional. They took care of business in a timely manner and answered ALL of my questions. And, my eyesight is still good, no need for new glasses unless I want them and since there was a slight difference, I probably will purchase a new pair sometime soon.
Name: L.V.C.
Message: The office feels welcoming when you will in the door. You are greeted with a wonderful
Name: S.B.
Message: Dr. Abrams-Tobe listened well and was easy communicate with. Came in for a yearly exam. Dr. Tobe did a very comprehensive exam and answered all of my questions. Short wait time to see the doctor. All staff I encountered were friendly and professional. Overall, excellent experience!
Name: J.L.
Message: I am guessing that I have been a patient for 30 years. The doctors have always been knowledgeable and courteous. The professional assistants have varied but all have got the job done. Some of the office personnel seem to lack an understanding that they are there to serve the clients.
Name: J.
Message: Staff is very friendly and efficient. I was called back for my visit right on time and Dr Hopen has taken excellent care of my vision. Thank you!